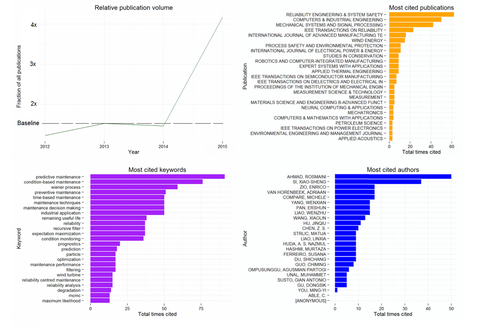 Predictive maintenance
- a burgeoning science - is the art of machine learning to help determine the condition of in-service equipment, usually in real-time, and therefore predict when
maintenance
should be performed. This approach promises cost savings over routine or time-based
preventive maintenance and additionally offers the flexibility to algorithmically generate alerts which may avert catastrophic events.
I have been involved with implementing some predictive maintenance and condition based monitoring algorithms recently, primarily with application to the transportation industry, and decided to do a little literature search on the subject:
A above figures provide a summary of the literature in predictive maintenance space (generated based on Web Of Science search results ).
The science of predictive maintenance has grown (in terms of cited and new literature) exponentially since 2014, with a remarkable performance from the transportation sector. The power of data has truly spread the wings of the transportation sector - planes, trains and automobiles - thanks to the ubiquitousness of machine learning, the virtually limitless extents of cloud storage and of course elastic cloud computing!
​​