Teaching Science with an Engineering Twist

A workshop investigating the value of invoking engineering principles into the high-school science & math curriculum,

sponsored by:
Carnegie Mellon University Educational Outreach & The Leonard Gelfand Center for Service Learning & Outreach.

See the highlights here: http://www.cmu.edu/gelfand/photo-gallery/2014/apr/5.html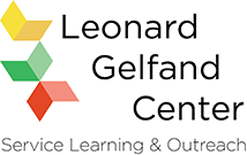 "What is Research? Teaching Science with an Engineering Twist" - Prahlad G. Menon, MS Mechanical Engineering, PhD Biomedical Engineering. Assistant Professor, Electrical and Computer Engineering Department, Carnegie Mellon UniversitySaturday, April 5:
9:30 AM - Noon
Location:
PTC Building, Second Avenue, near Hot Metal Bridge
Target Audience:
This program is open to middle and high school science, technology and mathematics teachers and school guidance counselors.
REGISTRATION:
Click here to go to the online registration form.
Please complete the form below if you will attend. There is a field at the end of the form to submit any questions that you have about the workshops.
There are 20 spaces available for this workshop. Participants will earn Act 48 hours and a stipend of $62.
THIS PROGRAM IS SUPPORTED BY A GRANT FROM THE SIEMENS FOUNDATION.
---
TEACHING / LEARNING GOALS:
The session will focus on development of teaching methods to help students become aware of the interdisciplinary nature of science (eg: biology with math, physics in medical imaging, etc.) through demonstrations and interactive sessions involving engineering systems in the classroom. More specifically in this regard, Dr. Menon will share information about his research background (see: www.justcallharry.com), and the physics of applied medical imaging (eg: how medical imaging and image-processing works to improve the medical practice.) He will involve the audience in live demonstrations of big-data visualization and image guided surgery and will elucidate how this relates to development of spatial and pattern-recognition skills which can be learned at the high school level and engender interest in a future career in the engineering or medical sciences. Dr. Menon will reinforce concepts thorugh analogies between cardiovascular science, mechanics and fluid dynamics as well as cardiac surgery and "plumbing" in a fun and interactive way.
Specific teaching goals revolve around the notions of:
1) Developing spatial skills at the high school level through experiential training with 3D rendering and visualization of medical imaging data.
2) Pattern recognition and numerical analysis skills for identifying number patterns when they exist, taking clues from 'bio-inspired robotics' and 'bio-inspired design' concepts.
Contact:
Judy Hallinen
Assistant Vice Provost for Educational Outreach
Director, Leonard Gelfand Center for Service Learning & Outreach
Wean Hall 4612, Carnegie Mellon University.
Phone:
412-268-1498
---
We offer timely and accurate image processing of radiology images for clinical care, research, and training.
This is a service brought to you by the MEdical Diagnostics and CArdio-Vascular Engineering Lab.
The MeDCaVE – where QuantMD is engineered.

---