CMU-SYSU

Collaborative Innovation Research Center

(CIRC)


Bi-Annual Grant Review (22 May 2014)
Big Data Techniques for Medical Image Segmentation.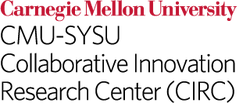 Primary Investigators (PIs):
Ole Mengshoel (CMU Silicon Valley) & Prahlad G. Menon (SYSU-CMU JIE & JRI)
+Contributors:
Dongzhen Piao (PhD Student)
A probabilistic approach to solving the optical flow problem using Gibbs sampling method was presented with the goal of spatio-temporal cardiovascular image segmentation of consecutive pairs of 2D/3D images in a temporal sequence. This technique will have application to expediting the cardiovascular flow or mechanics simulation pipeline by accelerating the process of generating simulation-ready segmentation.
Read more about this innovative segmentation technique on our poster:
http://1drv.ms/1phjMSQ
---
---
We offer timely and accurate image processing of radiology images for clinical care, research, and training.
This is a service brought to you by the MEdical Diagnostics and CArdio-Vascular Engineering Lab.
The MeDCaVE – where QuantMD is engineered.

---