Society for Cardiovascular Magnetic Resonance | SCMR 2014


17th Annual Scientific Sessions


Regional function analysis of aortic aneurysms,

using cardiac MRI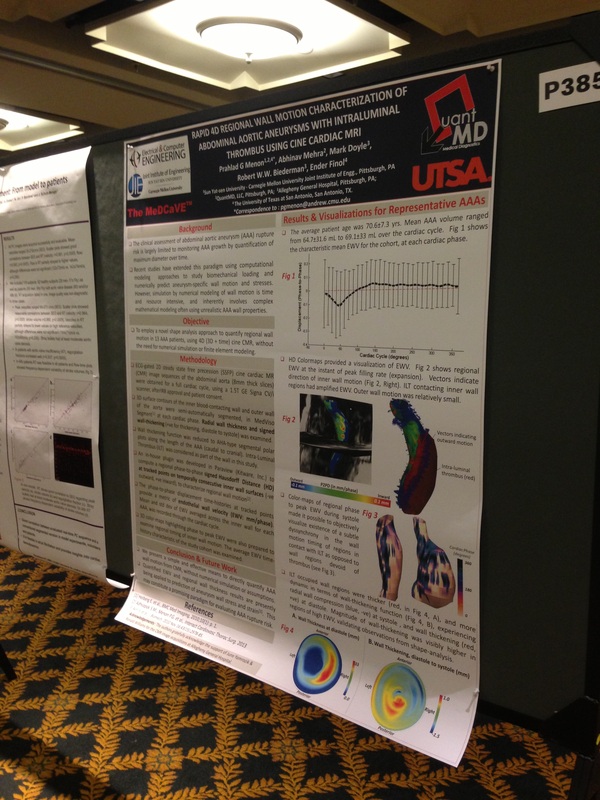 P.G
Menon
, A Mehra***, M Doyle, R W W Biederman, E Finol, "Rapid 4D regional wall motion characterization of abdominal aortic aneurysms with intra-luminal thrombus using cine cardiac MRI." Society for Cardiovascular Magnetic Resonance (SCMR) 17th Annual Scientific Sessions, New Orleans, LA. 16-19 January 2014. Control ID: 1806186. (
Poster Presentation
)
Summary
: This study presents a novel shape analysis approach to quantify regional wall motion in 13 patients with abdominal aortic aneurysms, using 4D (3D + time) cine CMR, without the need for numerical simulation or finite element modeling.
Also see The MeDCaVE's contribution to SCMR 2013 (San Francisco):Menon, P.G
, R.W.W Biederman, "
Automated 3D morphometric difference biomarker for abnormal ventricular morphology
." Journal of Cardiovascular Magnetic Resonance, 2013. 15(Suppl 1):E35.
E-poster presentation
at Society for Cardiovascular Magnetic Resonance (SCMR) 16th Annual Scientific Sessions, San Francisco, CA. 30 January - 3 February 2013.
---
We offer timely and accurate image processing of radiology images for clinical care, research, and training.
This is a service brought to you by the MEdical Diagnostics and CArdio-Vascular Engineering Lab.
The MeDCaVE – where QuantMD is engineered.

---