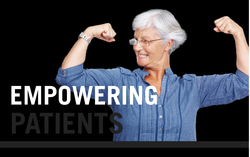 This post extends upon my previous blog entry on the 'waves' of healthcare IT adoption. The focus this time is on assimilating primary and secondary research in regard to ascertaining the optimal direction for new healthcare IT innovation and entrepreneurship initiatives, given the current healthcare climate...
Healthcare IT adoption has been arguably most impactful in terms of enabling patient involvement in care management and accessibility to their digital health data through web-based or mobile applications. To successfully ride these trends of the third wave of healthcare IT adoption, healthcare companies need to follow the proven models of champions from the digital-service era like Google and Facebook by starting with a single focused end-user offering and then gradually add ergonomically designed conveniences which both keep the patient's interests in mind and hold their attention, without introducing overt complexity. True empowerment in the digital era is about building value while ensuring comfortable interaction in a manner that necessitates negligible training (or none at all) to get acclimated to a new digital offering for patient enablement.
In my last blog post we drew insights regarding what patients really want from digital healthcare through primary research [1]. But digital health systems around the world face challenges as well which is why any new patient enablement service offering needs to be positioned at the trade off of technical limitations on serviceability and scalability, and of-course patient needs. Limitations at the system level stem from the growing burden of chronic conditions which in-turn is a function of an aging population – 18% of the US population will be over 65 years old by 2025 – and the explosion of 'lifestyle diseases' relating to stress, mental illness etc.. But recall that over 70% of patients over 50 years old want digital healthcare services nearly as much as their younger counterparts for services such as finding and scheduling physician appointments [2] – therein stems the problem of scalability. While health promotion and prevention services are easy to advertise in a viral fashion through the digital media, managing prospective clientele and
the resulting data from client-servicing has proven to be the technical bottleneck
given that
what patients really want
in regard to better understanding the state of their health – as per primary research [1] –
is fast availability of a personal contact person
.
Mushrooming hospital activity, unrelenting technological change, and costs of care rising at a rates faster than the general economy have reflected in increased financial wherewithal for the healthcare industry addition, while there remain concerns that the healthcare system is failing to meet the expectations that many people [3]. Common problems encountered by patients and ones that remain to be addressed by the healthcare IT revolution for patient enablement include reducing avoidable admissions and relieving the frustration that arises from long wait-times and having to repeat information and undergo repeat testing from a confusing array of healthcare professionals.
The E-care digital revolution attempts to address these needs through the delivery of customer service via Internet-based user accounts, social networks and mobile applications, rather than call centers or service counters. E-care can significantly lower the cost of customer service operations [3] and despite their most obvious setback viz. the complete unavailability of a personal contact person, such digital services are in increasing demand by young, digitally enabled customers for whom online research and review of products is unremarkable.
Assimilating the facts, especially given that the healthcare system is particularly failing in regard to servicing the needs of the elderly and those with chronic conditions while the use of mobile healthcare applications is strongest primarily among younger people, enabling services addressing the looming issues of healthcare accessibility via online platforms which include as much connectivity to 'real people' as possible seems to be the right direction for new healthcare IT innovation and entrepreneurship…
References:
[1] McKinsey International Survey on Healthcare's Digital Future:
http://www.mckinsey.com/insights/health_systems_and_services/healthcares_digital_future
[2] Practo – the doctor search engine.
www.practo.com
[3] Why companies should care about e-care:
http://www.mckinsey.com/insights/marketing_sales/why_companies_should_care_about_ecare?cid=DigitalEdge-eml-alt-mip-mck-oth-1408