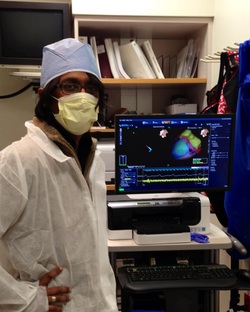 Employing physics and computing to solve new life-changing biomedical problems spanning diagnostics to surgical guidance is now synonymous with my overarching mission as a human being as well as what I'm recognized as being capable of today. It all started with my being assigned to the cardiac MRI division of Allegheny General Hospital as part of the BME Clinical Practicum program, through which I chose to continue some cardiac MRI research that began with Dr.Mark Doyle, Dr.Robert Biederman and Dr.Steve Jones during the early months of my PhD, on my own time. The research exposure offered me as a graduate student, invaluable experience in understanding the principles of biomedical research. This exposure is also ideal to provide those essential 'early research' experiences to hard-working and proactive undergraduates considering careers in scientific research. While research experience is not a requirement for admission to medical school, it can enhance preparation for a career in medicine as well, while offering students opportunity to identify with their interests through an introspective matching of key competencies and the cutting edge in the science.

My personal experience in the Pittsburgh cardiovascular research community has resulted in hands-on, supervised and unsupervised original research investigations relevant to two main programmatic areas in biomedical research: 1) cardiovascular biomechanics i.e. both mechanics and fluid dynamics investigated using medical imaging; and 2) surgical planning for a range of minimally invasive and open-heart cardiac and vascular procedures. My sole motivation for devoting both time and energies to out-of-curriculum research despite my PhD-related workload has been to excel as a medical researcher. My goal has been to conduct impactful research targeted at improving overall human health through physics-informed diagnostic image analytics and informed interventional guidance. Given that such involvement is not paid-hire, it is important to remember that motivations have to result from a desire to contribute to the science. Such motivation has created an inveterate need within me to want to contribute to enhancing the cumulative knowledge that we know as the biomedical science today while continuously innovating ways to improve how we conduct it.

A key aspect of such training experiences to an engineer wishing to transition into the biomedical space is to transition an engineer's governing perspectives on deductive rationale and proof-of-concept testing to a more inductive line of thought that capitalizes on engineering deductions of-course, but validates such rationale through clinical trials and other investigative methods to statistically prove findings or merits of a technology. But with that I move on to less tangible but by far more important learning experiences from here on. Although a student researcher often drives the projects they are involved with, there is a distinct difference between their involvements in contrast to that of a "PI" on a research project. As a student and innovator, my objective wasn't to "raise money to solve a problem" but to simply 'solve problems' with little or no financial requirements or commitments. The way to have opportunity to 'solve problems' is therefore only by instilling a reassuring sense of a mutually beneficial research relationships with interested collaborators having the right resources at their disposal and a of-course similarly aligned ideals. Additionally, for fruitful endeavors collaborators must have a passion to 'solve problems' too, much like the student researcher, rather than a mere whimsical desire to "raise money to have a problem solved" – a distinction with a very striking difference.

The major resource which I was able to capitalize upon that has been at my disposal as an extroverted researcher keeping pace with medical professionals in time-zones across the globe is 'data' – IRB approved retrospectively gathered MRI, CT, Ultrasound imaging data acquisitions. Access to image data acquired from multiple sources around Pittsburgh – access to which is granted through repeated proven research method and rapid result delivery – is likely the sole most important factor that has catapulted my research endeavors. Given sufficient persuasion and promising results, my personal experience goes to show that interested researchers, physicians / surgeons, as well as enthusiastic supporters in industry wishing to employ proprietary methods to derive value for prognostic, diagnostic or surgical guidance needs from medical image data can also create opportunity to conduct IRB and IACUC approved prospective animal (and human) studies. This is the real clincher when it comes to translating research technology outside of academia and into clinics that make an actual difference to human lives. The right research ideologies cultivated as a result of interactions – both technical and business related – have resulted in my forging even stronger collaborations outside of the Pittsburgh healthcare and entrepreneurial community; in Europe, India, China. So, a key idea to capture here is that while initial collaborations resulted in creating good research, it was the research 'culture' that cultivates both new collaborations and compelling interest in new research.

Therefore, the quintessential research mindset is achieved not only by virtue of strong research method but also strongly ingrained, morally sound ideologies for research conduct. Collaborating with a research group is for "you", not for anyone else; meaning that a student is never doing a favor to anybody by their involvement with a research project, except perhaps themselves. My personal experience with some of my intern hires (for QuantMD, LLC) and research assistants have best informed me that this is a little known or perhaps little appreciated point. While high impact research benefits everyone, including the researcher that does all the real work, it is a result of proactive 'sharing' of goals and motivations and more importantly a lot of 'free public showcasing' of work often converging only after 100's of sleepless hours, in order to gain but a modicum of attention from a clinician. So, if you're not the kind who replies to emails in minutes and has the ability to think on your feet – perhaps consider some lessons in punctuality and wit prior to getting into biomedical research.

Finally, after all the training, as a respected provider of technology for enhancing the healthcare practice it is of utmost importance to understand the repercussions of your actions. Accountability for the actions that result an analytic that you are involved with producing is very important to remember. As medical researchers affecting clinical practice (and it takes a while to get to this point…) you are accountable for results you produce as they will affect people's lives. But as long as you're aware of this and the responsibilities that come with it (J), employment of medical scientists is expected to increase at the rapid rate of 36% between 2010 and 2020, according to the bureau of labor statistics – well above the national averages for other professions! So get cracking at working your research collaborations and innovating with your engineering skills! Capitalize on all the in-kind support you can receive from the Pittsburgh medical community to actually make a difference in the science and rest assured, good work will not go unnoticed. Finally, keep innovating and keep publishing!